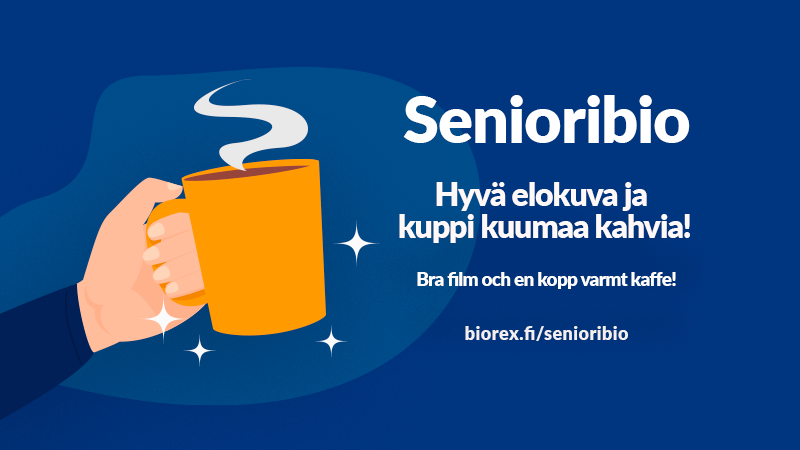 Films for more mature tastes
Senior cinema is BioRex's service for older audiences. The screening programme includes topical new releases that the target audience may find interesting, including drama, comedy and Finnish productions.Senior cinema screenings take place at all BioRex theatres at 15.00 on the first Wednesday of every month (bank holidays may cause changes in the schedule).
Information about Senior Movie Day
Tickets to senior cinema films are typically released for sale two weeks before their screening date. The film options may vary between theatres, depending on auditorium capacity. Senior cinema tickets can be bought in BioRex's online shop and at the theatres' ticket desks during opening hours. Finnish senior cinema films are screened with descriptive subtitles, whenever available. You can recognise these films by the descriptive subtitling symbol.
Affordable tickets
Thanks to their earlier screening times, the senior cinema tickets are more inexpensive than normal ones, only 9€ (normal price from 13,00€). No pensioner's card is required to purchase a concession ticket as film lovers of all ages are welcome to these screenings. Moreover, the ticket price includes a cup of freshly brewed coffee!
Next Senior Movie Day screenings:
The Old Oak
(Rated 12)
Show times
Siblings
(Rated 12)
Show times
The Miracle Club
(Rated S)
Show times
Fallen Leaves
(Rated 7)
Show times
Golda
(Rated 12)
Show times